Conservation Internship
Overview and
Application Deadline
The University of Washington Libraries is offering a internship for an individual with a demonstrated interest in conservation. The successful applicant will have the opportunity to develop their conservation treatment skills and portfolio using diverse special collections from the UW Libraries. Applicants are expected to be preparing for or enrolled in a graduate-level conservation program in the United States.
This is a full-time (40 hours per week) summer program. Duration is 10 weeks, with exact dates to be arranged between June and September.  Affiliation with the University of Washington is not required but please note that we are unable to sponsor a visa for this internship.
Activities and instruction
Working primarily under the supervision of the Associate Conservator for Paper and Photographs, the Conservation Intern will have the opportunity to perform a broad range of conservation treatments on manuscripts, prints, drawings, maps, and other unbound archival and special collections materials on paper. The intern will develop skills in treatment decision making, prepare condition and treatment reports with appropriate photo documentation, and gain additional experience in conservation treatment.
While the focus will be on the practical application of conservation techniques, staff will also work with the applicant to develop future success in the field. Through selected readings, guided treatment and general discussion, the applicant will develop a more in-depth understanding of the complex issues associated with library materials conservation and preservation.
The internship will be for a 10-week term and will be 75% treatment and 25% administrative (documentation and preventive conservation). The intern will also be required to give a final presentation on completed work.
The Conservation Intern will have the opportunity to strengthen an application to graduate-level conservation programs, or if already enrolled in a program, the internship will broaden and deepen skills in library materials conservation and better prepare the intern for their future work in the conservation field. Additionally, this internship provides for a $7,500 stipend.
The University of Washington Libraries is one of the largest and most innovative libraries in North America with collections exceeding 8 million volumes, over 500,000 electronic books, more than 120,000 currently received journal titles, as well as millions of scholarly resources in other formats. The UW Libraries is widely recognized for its unique, diverse, and inherently global collections.
The University of Washington is located in Seattle, Washington.  Interns will also have the opportunity to visit other conservators and collection managers in nearby conservation labs and museums. For more information on Seattle, see Visit Seattle.
The 2023 application process has concluded. If you are interested in applying for this position in 2024, you can expect to see the position posted next in February 2024. Thank you for your interest!
---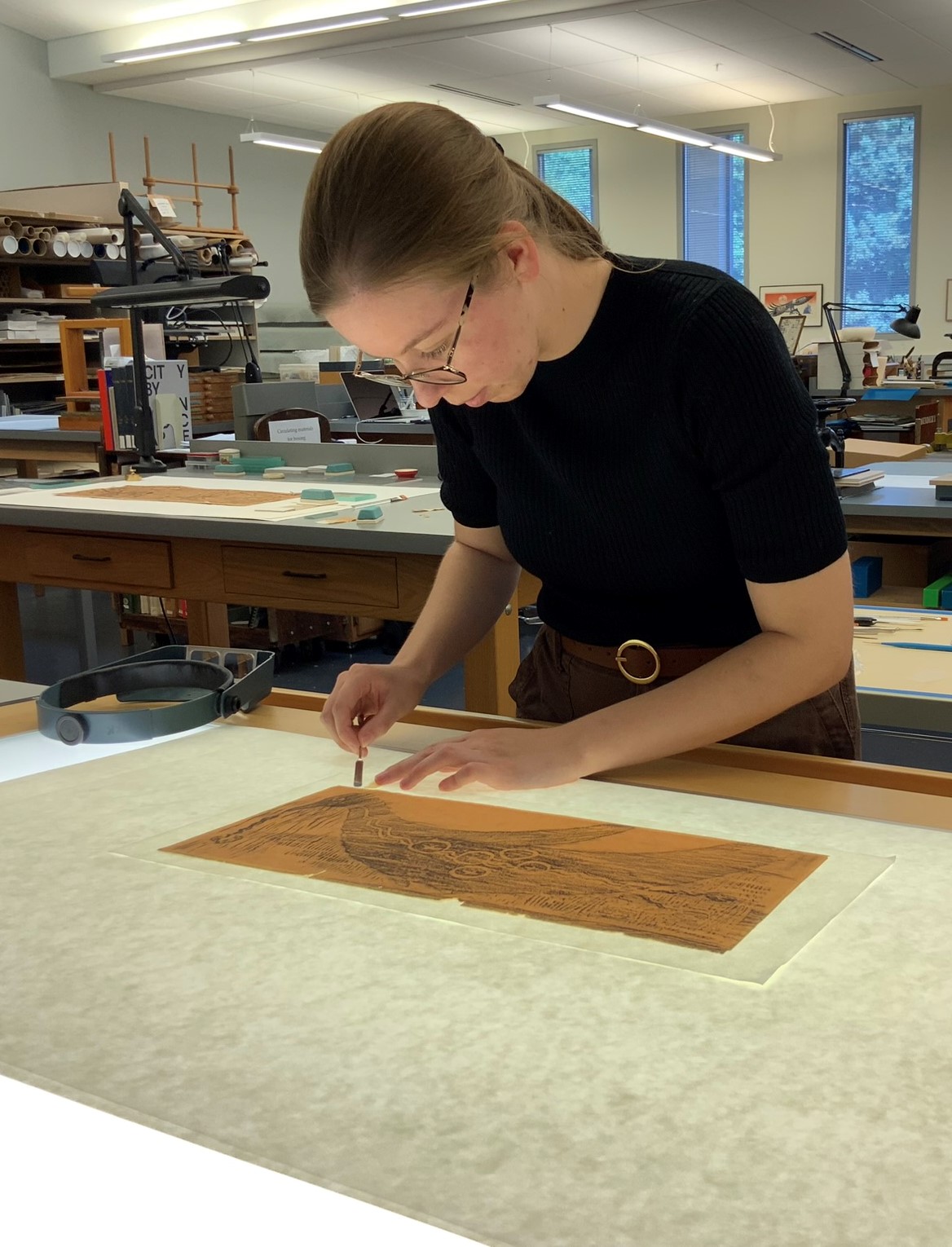 2023 Intern, Katherine Miromonti
My summer at the University of Washington Libraries not only involved several complex and sensitive treatments but also provided a holistic perspective on conservation as a profession. One project, which spanned the majority of my ten weeks at the library, was the preservation of Palauan charcoal rubbings from the Burke Museum collection. The rubbings presented a unique challenge due to the fragile nature of the media and paper. With the support of conservator Claire Kenny and conservation technician Alex Hines, I acquired valuable experience in developing a treatment plan that emphasized innovative housing solutions over invasive treatments.
I also provided exhibition support to local institutions by condition reporting and assisting with photography of pieces included in the Taking Care and A/Political Rocks exhibitions at the Henry Art Gallery. Additionally, I assisted in assessing outgoing lithographic loans for the Native American Modern exhibition at the Cascadia Art Museum.
Beyond the conservation lab, I worked with collection managers, curators, art handlers, and preservation experts to learn about collaboration between professions in the cultural heritage and information services fields. For example, I spent time expanding my understanding of preservation practices with Stephanie Lamson and Jesse Stanley by delving into environmental monitoring, integrated pest management, and the digitization of library and archive materials.
______________________________________________________________________________
Katherine Miromonti is from St. Louis, Missouri, and earned her Bachelor of Fine Arts from the University of Denver in 2022 where she majored in Pre-Art Conservation. She has held pre-program internships at a variety of institutions including the Virginia Museum of Fine Arts, the State Historical Society of Missouri, and Arlington National Cemetery where she gained experience in the conservation of paper, photographs, and outdoor stone and masonry. This fall, she will begin her first semester at the Patricia H. & Richard E. Garman Art Conservation Department at SUNY Buffalo State.
2022 Intern, Pilar Brooks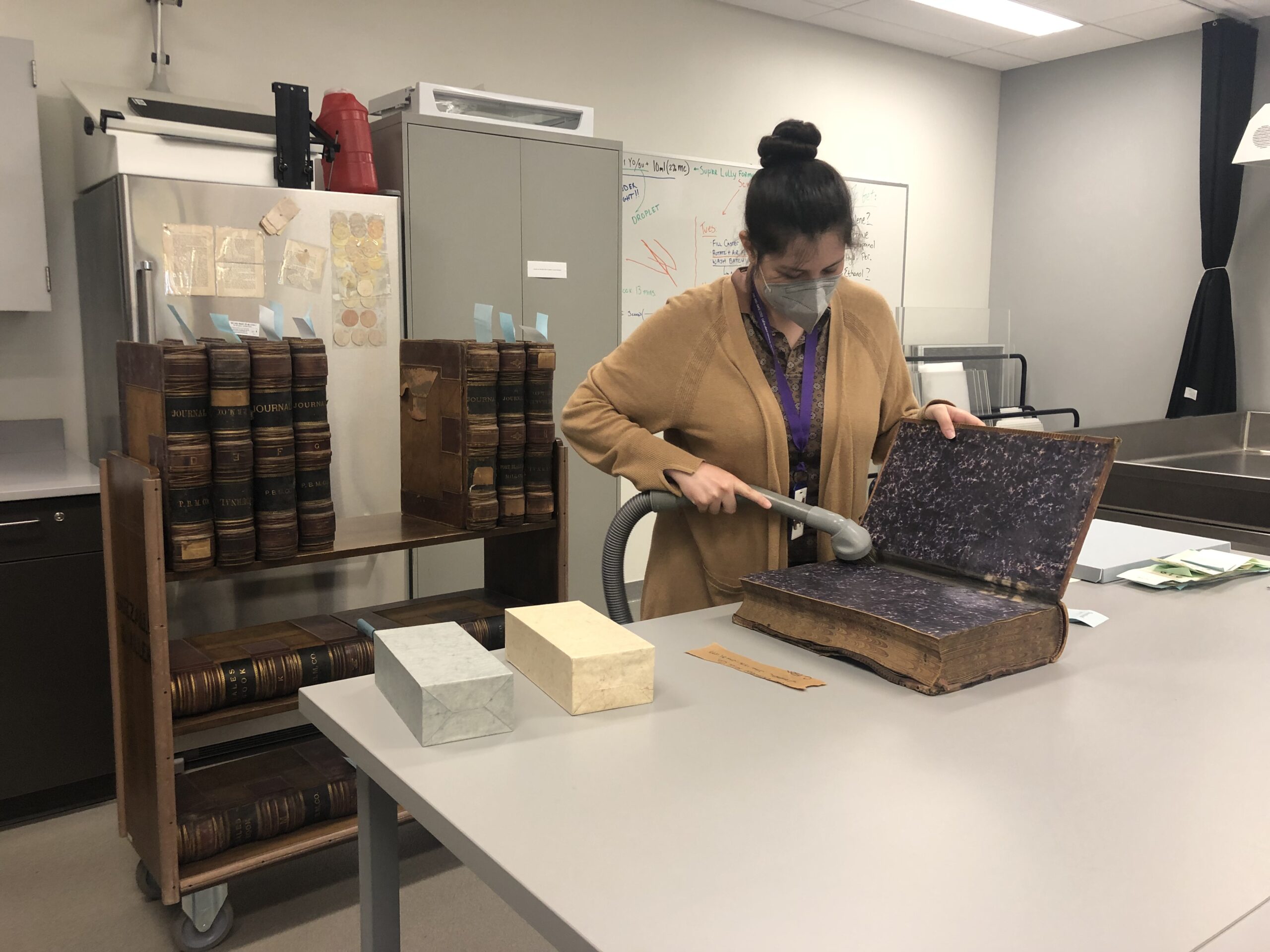 Over the course of my ten-week internship, I was able to greatly expand my book conservation experience and build my confidence as an emerging professional. This internship was my first opportunity to work on leather-bound materials, fulfilling a key professional goal of mine. Under senior conservator Justin Johnson's mentorship, I worked on seven different rare book treatments, ranging from a simple hinge repair, to assisting the recasing of a book missing both boards and most of the spine material. I also constructed a half-leather book model sewn on raised sewing supports and contributed to the Port Blakely Mill rehousing project.
In addition to my work on books, I assisted conservator Claire Kenny with a condition survey of the Richard V. Correll collection and treated a work from the collection. Together, we washed a linoleum block print titled Cows to decrease creasing, staining, and discoloration and remove two strips of tape from the upper edge of the print. I also assisted with a condition report of Lutz Bacher's Baseballs II, a conceptual art piece consisting of over 2,000 baseballs. In working with both Justin and Claire, I was exposed to a wide range of conservation treatments and preventive conservation activities. These experiences have been key in building my portfolio and have helped me become a more skilled and flexible conservator.
______________________________________________________________________________
Pilar Brooks has a Bachelor of Arts from Rollins College in Winter Park, FL, where she studied art history and studio art and received a Fulbright Nomination. She completed previous conservation internships at the Minnesota History Center in St. Paul, MN and the Museum of Fine Arts, Boston and presented research at the American Institute for Conservation 2022 Annual Meeting. Following this internship, Pilar became a Post-Baccalaureate Conservation Intern at the Getty Center in Los Angeles.
2019 WUDPAC Intern, Yan Ling Choi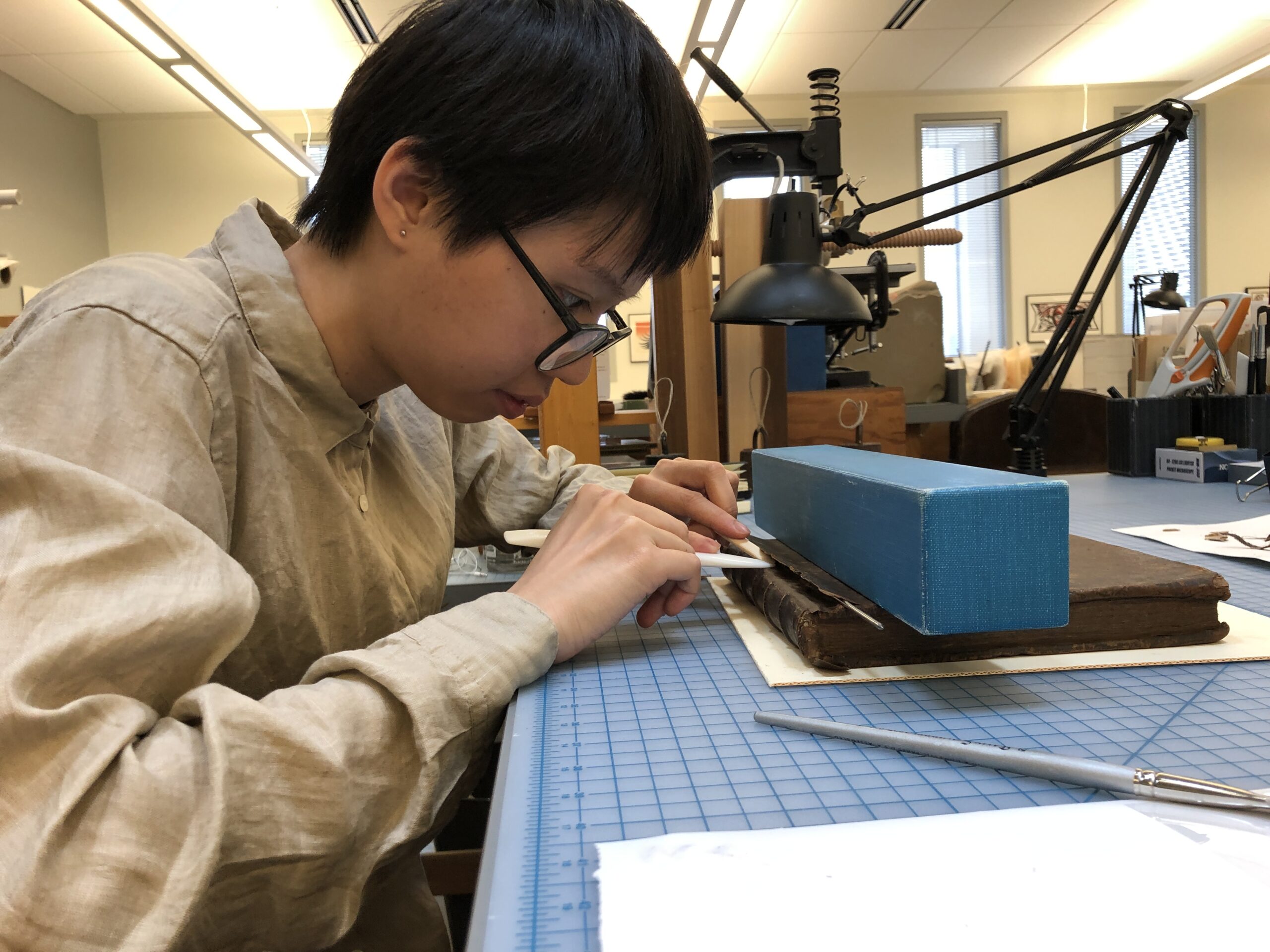 I am incredibly grateful for the internship experience at the UW Libraries Conservation Center this summer. The internship expanded my understanding in conservation and provided an opportunity for me to apply the knowledge I attained from graduate school in a university library setting within an efficient working environment. During my eleven weeks, I treated five bindings in parchment and leather at various levels of complexity, ranging from paper mending, joint reinforcement to rebacking with paper and leather. I also attended an FAIC workshop, Traditional Techniques in the Conservation of Leather Bookbindings, taught by James Reid-Cunningham. With the wonderful mentorship and guidance from senior conservator Justin Johnson, these experiences allowed me to think critically about how each treatment decision affects the long-term preservation and usage, as well as the mechanics of the book.
Aside from working on bound volumes, a large part of my internship focused on stabilizing and rehousing 11 Chinese stele rubbings. After humidification and flattening, I mended the tears and losses using pre-coated tissues, a treatment procedure developed by previous intern Alexa Machnik. Justin and I designed and modified commercially available tube storage for rehousing the oversized rubbings and scrolls. Overall, the internship has helped to build my confidence as an emerging conservator, and I gained many invaluable skills. I was very grateful to the engaging and supportive staff in the lab.
______________________________________________________________________________
Yan Ling Choi is from Hong Kong and a second-year Andrew W. Mellon Graduate Fellow in Library and Archive Conservation from the Winterthur/University of Delaware Program in Art Conservation (WUDPAC). She holds a B.A. in Art Conservation with minors in art history and chemistry from the University of Delaware. She previously interned at Penn Museum, Barnes Foundation, Hong Kong Conservation Office, Winterthur Museum, and Walters Museum of Art.  She will be interning at the University of Michigan Libraries for her third-year studies.
2018 Intern, Alexa Machnik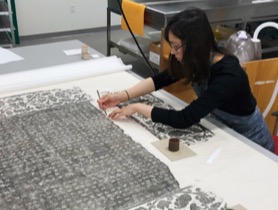 I had a wonderful experience interning at the Conservation Center this summer. The internship far exceeded my expectations in terms of scope and it was an absolute pleasure to work under the guidance and mentorship of Justin Johnson. In the ten weeks alone, I reconstructed a historic binding model and completed extensive treatments on nine leather-bound volumes, all of which strengthened my documentation and decision-making skills while providing ample opportunities for me to experience a diverse range of treatments and techniques.
Another large part of my internship focused on the Chinese stele rubbing collection of the East Asia Library. Building upon my background in Chinese art history, I had the unique opportunity to identify a conservation treatment protocol for the collection using pre-coated repair materials. This undertaking culminated in a full written proposal complete with rehousing solutions, case study treatment results, and financial and labor projections. The project proved to be rigorous, but the chance to be part of the collaborative effort to promote the preservation of the rubbings collection was something truly special. I am incredibly thankful for the insights I have gained from this experience. Not only has my confidence grown, but I am more prepared to embrace the next chapter of my career.
______________________________________________________________________________
Alexa Machnik earned her B.A. with Honors in Art History and East Asian Studies from the University of Wisconsin-Madison in 2018. She previously completed conservation internships at the University of Wisconsin Libraries, Yale Peabody Museum and Art Research Center in Kyoto, Japan, and most recently worked as a conservation technician at the Center for Preservation and Conservation at Yale University Library. In Fall 2020, she will begin studying at the Institute of Fine Arts, New York University Conservation Center as a Mellon Fellow in Library and Archives Conservation.
2017 Intern, Christine Manwiller

I have thoroughly enjoyed my ten weeks as an intern at the UW Libraries Conservation Center. My priorities were to increase my knowledge of leather binding treatments and complete more sophisticated photo documentation and treatment reports. This summer I have treated thirteen volumes, and a large foldout map. I learned new treatments, including leather rebacks and board-tacketing, and practiced my gold tooling skills. I was also introduced to the wonderful world of leather dyeing. My projects were focused on my main goal to work with leather, but also were varied enough to give me a wide range of treatment experience. I also worked with curators to develop treatment plans and completed detailed photo documentation and treatment reports. Justin Johnson was a wonderful instructor, and the other staff at the Conservation Center were a joy to work with. I am leaving with new skills and the confidence that I will be prepared for future graduate studies in book conservation.
______________________________________________________________________________
Christine Manwiller is from northwestern Wisconsin and received her BA with Honors in Art History with minors in Studio Art and Chemistry from the University of Wisconsin Eau Claire. She has studied abroad extensively, including programs in Peru, the Orkney Islands, and Italy where she completed the one-year Certificate in Art Conservation program at the Lorenzo de Medici Institute. She received her MFA from the University of Iowa Center for the Book, graduating with distinction with focuses in bookbinding and calligraphy. Her calligraphy has been featured in the national publication for calligraphy: Letter Arts Review and her artist books are in collections at the University of Washington and the University of Iowa. She also worked as a student lab technician at the University of Iowa Libraries Conservation Lab and as an intern in the Yale University Library Conservation Lab. She is a Mellon Fellow in Library and Archives Conservation at the Patricia H. & Richard E. Garman Art Conservation Department at SUNY Buffalo State, Class of 2021. She will complete her third-year internship at the Folger Shakespeare Library in Washington, D.C.
2016 Intern, Sara Belasco

I am so grateful to have worked in the Conservation Center's beautiful new space. My projects were tailored to the kinds of books I wanted to treat and my goals for progression by the end of the summer. In total I treated eight books and made two historical models, learning about different methods of board reattachment, leather rebacking, and limp vellum structures.  In addition to treatment, I gained experience in working with a curator to develop a treatment plan and proper documentation. After this summer I have a much more well-rounded understanding of problems specific to the treatment of rare books, as well as feeling much more prepared to enter a graduate program for conservation in the future.
______________________________________________________________________________
Sara Belasco is from New York City, NY and earned a B.A. with Honors in Art History and a minor in Studio Art from Skidmore College. She has completed conservation internships at the Brooklyn Museum, Metropolitan Museum of Art, Morgan Library & Museum, and New-York Historical Society. Sara is currently taking additional chemistry and German classes in preparation for applying to graduate school this Fall and has returned to her internship at the American Museum of Natural History Library.
2015 Intern, Michelle Smith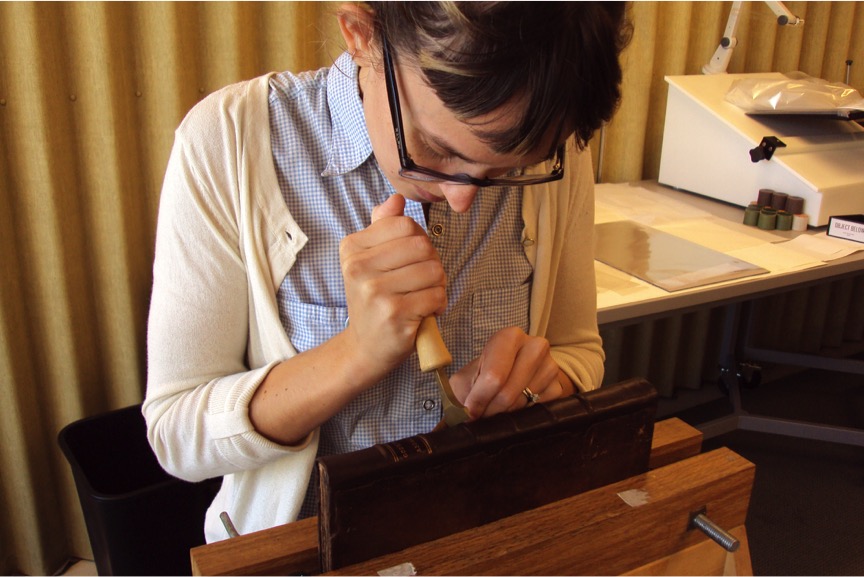 I feel very fortunate to have worked as a conservation intern at the UW Libraries. During my ten weeks here, I was able to complete six full treatments and all of these items are now available for use by professors as teaching tools for their students. The projects selected for me were varied enough to expose me to a wide array of treatment methods while reinforcing the foundational skills I need in order to become a book conservator. I feel more confident entering my graduate program this fall with the experience that I have gained during this internship. I had not performed any treatments on antiquarian books bound in leather or vellum before this summer and I was happy to fill this gap in my knowledge. I even got to work on an illuminated manuscript! This was an invaluable opportunity for me.
______________________________________________________________________________
Michelle C. Smith is originally from Atlanta, Georgia. She received a BFA in printmaking and book arts from the Savannah College of Art and Design and completed pre-program conservation internships at Emory Libraries, the Georgia Archives, and University of Washington Libraries. She received her MA and CAS in art conservation from Buffalo State College in 2018, where she was an Andrew W. Mellon Fellow in Library and Archives Conservation. She completed graduate conservation internships at the University of Michigan Library (where she was a 2016 Cathleen A. Baker Fellow in Conservation) and the Bibliothèque nationale de France in Paris, and she spent her third-year internship at Stanford Libraries. She was Assistant Paper and Book Conservator at Preservation Arts in Oakland, and she is currently the Kress Assistant Conservator at UCLA Library in Los Angeles. Michelle enjoys letterpress printing and flying trapeze, and she once made a book entirely out of vegetables.
2014 Intern, Elizabeth (Lizzie) Curran
As the University of Washington Libraries' first summer Conservation Intern, I have been working on volumes from the Libraries' Special Collections under the supervision of Senior Conservator, Justin Johnson. When tackling challenging projects, Justin's mentorship has made it possible for me to feel confident in my decision-making process while still receiving his expert guidance. From the very beginning of my 10 week internship, I learned numerous repair methods and was able to put them directly into practice. The tools and materials available in the Conservation Lab made it possible to perform complex and delicate repairs to valuable items in the collection, like washing and rebinding entire books, or executing an archival spine repair that blends in seamlessly with the original material. In addition to the hands-on skills, I've learned about the important work of conservation away from the bench: consulting with curators and colleagues, photo documentation, and developing treatment proposals and reports.
My knowledge base and hand skills have improved greatly due to the opportunity I have been granted at UW. Not only are the Suzzallo and Allen Libraries a beautiful place to work every day, but they have also proven to be a lively environment with an interesting and well-cared-for collection. I feel lucky to have been able to handle and repair everything from Gothic bindings to original Kelmscott Press books.
______________________________________________________________________________
Lizzie Curran is from Concord, Massachusetts and earned a B.A. in Studio Art from Bennington College and a diploma in Bookbinding from North Bennet Street School. She has completed book conservation internships at Dartmouth College and the University of Washington. Lizzie has exhibited with and is a member of the New England chapter of the Guild of Book Workers, as well as serving on the GBW board as Exhibitions Chair.  She is currently the Assistant Conservator at Dartmouth College in Hanover, NH.