Organization at a Glance
People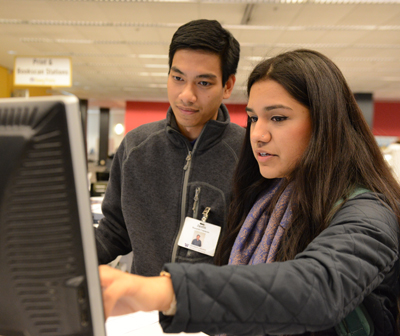 Office of the Dean of University Libraries
Simon Neame
,
Dean of University Libraries
Portfolios and Organizational Charts
Advancement
Sheryl Stiefel, Assistant Dean
Libraries Advancement supports Libraries initiatives through private and foundation support, including donor events, outreach and stewardship.
Collections and Strategic Partnerships
Denise Pan, Senior Associate Dean
Collections and Strategic Partnerships focuses on building and sharing sustainable collections by maximizing internal and external capacity and stewarding finite resources.
Budget Analysis and Strategy
Financial and Administrative Services
Collections and Content

staff identify, acquire, catalog, and prepare resources for library users.
Distinctive Collections
Associate Dean vacant
Distinctive Collections encompasses Special Collections as well as International Studies.
International Studies

Near East
Slavic and Eastern Europe
Southeast Asia
Organizational Development and Inclusion
Kimanthi Warren, Assistant Dean
Research and Learning Services
Lauren Pressley, Senior Associate Dean
Research and Learning Services provides collections, space, as well as reference and circulation services to support research and publishing by the academic community.
Access Services

Circulation Services / Branch Operations Services

Communications
Facilities and Events
Learning Services

Curriculum Support
Instructional Design and Outreach Services
Student Success

Research Services
UW Bothell and Cascadia Library
Richard S. Lewis, Associate Dean
The UW Bothell / Cascadia Campus Library serves the University of Washington and Cascadia College combined campus.
UW Tacoma Library
Annie Downey, Associate Dean
The UW Tacoma Library serves the University of Washington Tacoma Campus.
HEALWA and Community Partnerships
Tania Bardyn, Senior Director
HEALWA assures affordable, anytime, online access to current, authoritative clinical information and educational resources to eligible health care practitioners in Washington State.
NNLM Region 5
Simon Neame, Interim Primary Investigator
The UW Libraries serves as the Regional Medical Library for Region 5 of the Network of the National Library of Medicine, providing programs, services, and dedicated support for NNLM Members in Alaska, California, Hawaii, Nevada, Oregon, Washington, and U.S. Territories and Freely Associated States in the Pacific.
University Press
Nicole Mitchell, Director
The University of Washington Press finds, develops, selects, and publishes scholarship of high quality and enduring value.